FREE SHIPPING + This week only - 15% OFF your entire order - use coupon 15FREE at checkout
Chamomile Buttercream - Intensive Repair Moisturizer for Sensitive Skin
Aloe Vera Juice*, Vegetable Glycerin, Sweet Almond Oil*, Shea Butter*, Chamomile Extract*, Jojoba Oil*, Meadowfoam Seed Oil*, Green Tea Extract*, Vegetable Emulsifying Wax, Kokum Butter*, Coconut Oil*, Hydrolyzed Wheat Protein, Hyaluronic Acid, Witch Hazel Extract, Feverfew Flower Extract*, Cetyl Esters (from coconut), Panax Ginseng Extract*, Palm Stearic Acid, Camellia Oil*, Hibiscus Flower Extract*, Licorice Root Extract*, Gluconolactone (from corn) and Sodium Benzoate, Chamomile Essential Oil*, Clary Sage Essential Oil*, Tocopherol (Vitamin E), Rosemary Essential Oil*.

*Certified Organic Ingredients
Apply cream as often as needed onto freshly cleansed skin. Can be used alone or under makeup.
ANTI-AGING WRINKLE REDUCER - cutting edge all natural organic formula combines Chamomile, Shea Butter, Panax Ginseng and other premium quality ingredients to provide 3 times the skin smoothing benefits of leading anti-aging moisturizers.  Best non-greasy cream for face, hands and neck.  Fights wrinkles, acne scars, uneven skin tone, sagging skin, dry skin and skin discoloration.

FOR LIGHTER & BRIGHTER SKIN - promotes an even skin tone, dramatically brightens complexion and helps you look breathtaking even without any makeup.  Chamomile anti-aging face cream is your #1 choice when it comes to creating a smoother, younger, healthier and more vibrant skin.  Powerful unique anti-aging formulation lifts and firms your skin, removing fine lines and crows feet.  It has wonderful healing properties and works quickly on wrinkles to make sure you look and feel fabulous.

POWERFUL REJUVENATING EFFECT built on the unique blend of ancient medicinal plants and modern scientific research.  Made to fit all skin types no matter whether you have a dry skin, oily skin or something in between – our premium anti-aging face cream will do an amazing job at restoring your skin's natural oil profile in the most efficient and natural manner.

BEST MOISTURIZER FOR YOUR FACE - made with skin loving ingredients that are gentle yet effective, this facial moisturizer is perfect for keeping your skin nourished around the clock to give you the clean, smooth and youthful skin you've always wanted.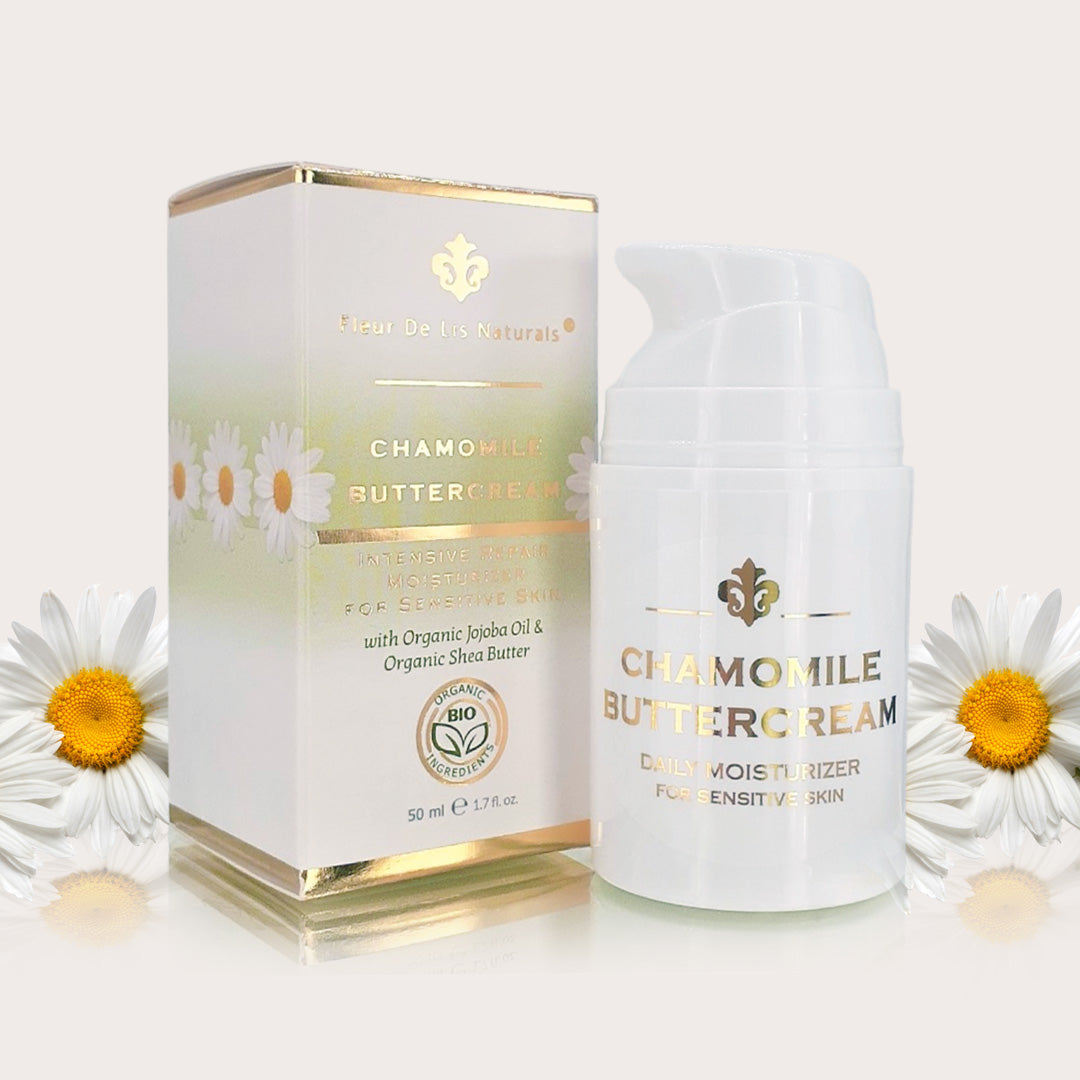 Wonderful!!
I am 56 years old and have sensitive skin. I have tried numerous face creams and none of them seem to be doing what I expected... I purchased the Chamomile buttercream and I LOVE IT!!! My 84 year old mom wanted to try it and now she is using it too! Thanks for a wonderful face cream!!