FREE SHIPPING + This week only - 15% OFF your entire order - use coupon 15FREE at checkout
Magic Herbs Hair Growth Activator
Purified Water, Nettle Leaf Extract*, Rosemary Extract*, Lavender Extract*, Panax Ginseng Extract*, He Shou Wu Extract*, Pine Pollen Extract*, Green Coffee Bean Extract*, Red Clover Extract*, Maca Root Extract*, Horsetail Extract*, Hibiscus Extract*, Saw Palmetto Extract*, Ashwagandha Extract*, Plantain Leaf Extract*, Ginkgo Biloba Extract*, Fenugreek Extract*, Goji Berry Extract*, Burdock Extract*, Gotu Kola Extract*, Calendula Extract*, Astragalus Root Extract*, Green Tea Extract*, Sea Buckthorn Extract*, Amla Berry Extract*, Chamomile Extract*, Acacia Concinna Extract*, Neem Extract*, Rhodiola Extract*, Curry Leaf Extract*, Dandelion Root Extract*, Moringa Extract*, Fir Needle Extract, Echinacea Extract*, Ginger Root Extract*, Sage Extract*, Thyme Extract*, Rosehips Extract*, Peppermint Extract*, Natural Flavors, Potassium Sorbate, Citric Acid.

*Certified Organic Ingredients
Use ones daily. Shake bottle well. Spray product to your scalp to the roots of your hair in areas of thinning like temples, crown, part, and hairline. Wait 3-5 minutes for the product to dry. Do not rinse or blow-dry after application. Style your hair as desired.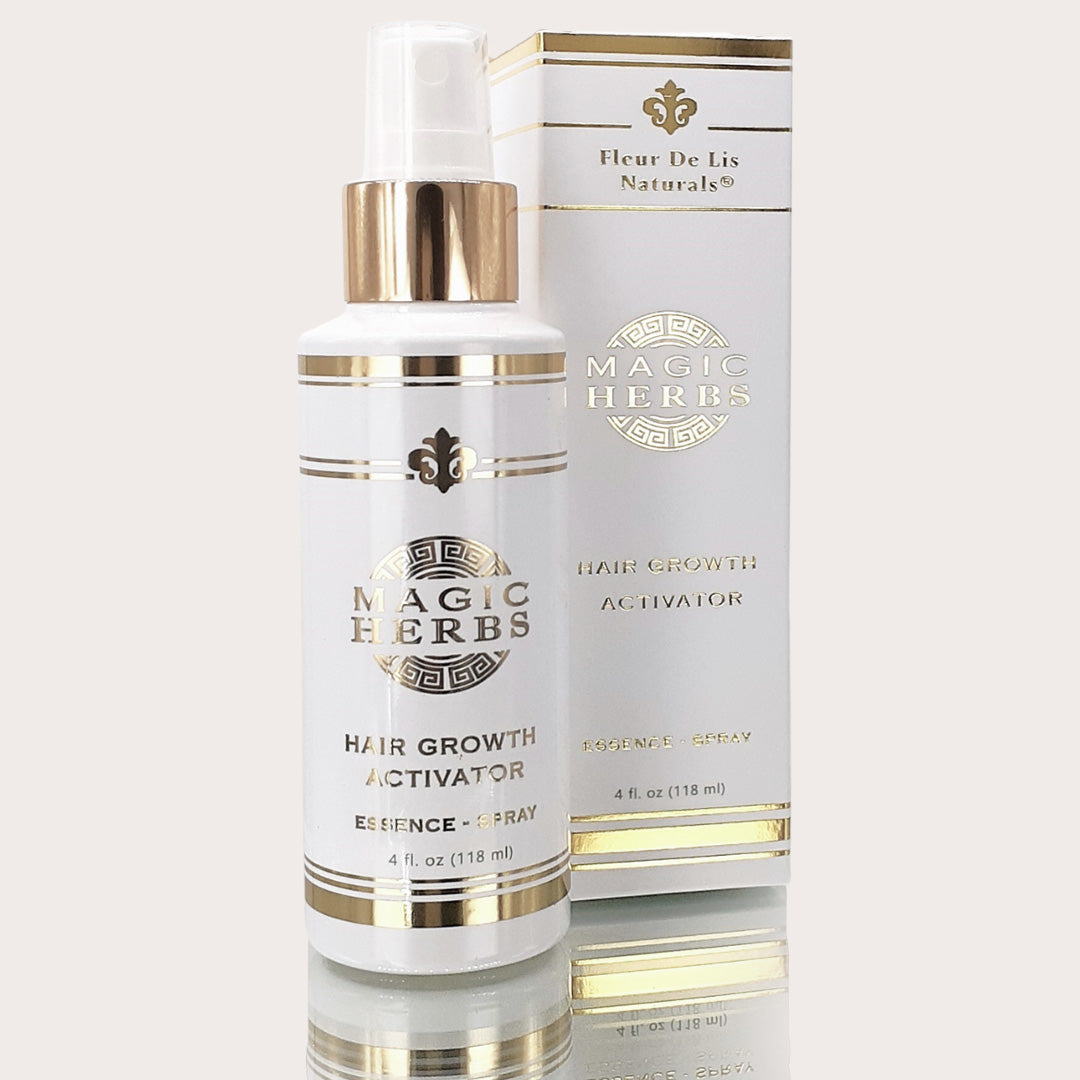 It works!
This stuff is working! I don't have before or after pictures, but I am definitely noticing tons of baby hairs growing like crazy. I've been using this for about 5 weeks now on hairline around my face and on the back of my head. I have 1 inch baby hair growth in these areas. I am shocked! Just ordered a second bottle.
Great hair product
I'm surprised that this actually works, but the little tiny new hairs grow fast. Love the natural herbal smell. No residue after application. Recommend.
This product does work, and I love it.
Have tried so many products, and nothing. With this one I'm actually growing new hair! The shedding has stopped. Easy to spray to the roots, and it absorbs quickly. Love the fact that I can use it anytime of the day!
Hair feels fuller and healthier
This is my 3rd bottle. The product is amazing. Helped to sooth my dry scalp and thickened my hair greatly. Thank you!
Effective treatment for alopecia
I can tell a difference around my edges after 2 months. Hair is filling in. Better than other, more expensive products I've tried. Plus, no Minoxidil side effects or other bad chemicals.